As an alternative pet, chickens are a local favorite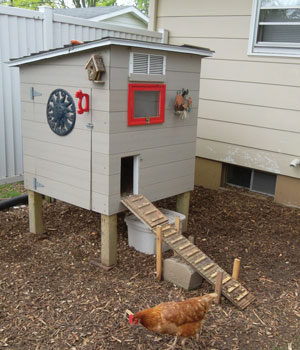 Photo Credit: Photo provided to The Clarion
Kait Vosswinkel, News editor
May 8, 2012
Filed under News
Parrots, cockatiels and canaries all make wonderful pets, but a new and more unconventional household pet has recently become a local favorite: the backyard chicken.
Chickens have been domesticated for thousands of years, but over the past century the practice has become rare. As cities became crowded and unsanitary, many people shied away from the practice. Affordable eggs and poultry from large-scale farms and butchers also discouraged backyard chickens.
However, as more Americans confront sustainability and unethical farming practices, raising chickens in the city is making a comeback. Christina Blechl, a local substitute teacher, recently recognized the growing interest in the subject and began offering a class called "Backyard Chickens" at Madison College just a few months ago.
Blechl, who has been raising her own chickens for four years, explained the motivation behind her initial decision to raise chickens. "I thought about it for three years beforehand. I wanted organic food and I wanted more control over my health. Free-range eggs are higher in vitamin content and lower in cholesterol."
Nutrition wasn't the only motivation, though. "They also make a great pet for children," Blechl explained. "We have a lot of allergies, and this was a perfect pet. They're quiet, friendly and entertaining. You can learn so much from the chickens. They enjoy the simple things in life."
Blechl quickly noticed the curiosity and interest of her neighbors, and recognized a public need for information. As a teacher, this led her to the idea of starting a class, and Madison College seemed like a perfect outlet.
"I chose Madison College because I like their mission," Blechl said. "They are trying to meet any need the community has." Blechl wrote a letter proposing the class and describing its potential focuses. The school was quick to respond, and the staff was incredibly supportive of the idea.
The course was soon put into action. A four-hour, two-week class with a field trip to Blechl's backyard coop gave students a crash course on chicken ownership. "The dean especially was wonderful," Blechl explained. "She added the field trip, and really made this whole thing come to life."
The course is affordable at about $20, and teaches the basics of chicken care. One of Blechl's first points is to educate on the different breeds of chickens. Backyard chickens are much more diverse than traditional white hens and can be any color or any size, producing eggs in a variety of sizes and colors. In her class, Blechl discusses which breeds would work well depending on climate, egg type and temperament.
She also covers the care and upkeep of chicks and hens, how to handle 'pecking order' (the natural period of aggression where the chickens determine dominance), basic coop design, and the legalities of owning chickens like coop placement and permit fees.
Madison's city ordinances are fairly simple: any owner can have up to four chickens, although no roosters are allowed. Chickens are allowed to roam free as long as the yard is fenced. Free-range chickens will eat grass all day long, as well as worms and bugs, producing eggs full of nutritious vitamins and omega-3 fatty acids.
Disease management and winter preparations are another very important aspect of the class. The class offers students a network of people to communicate with, and plenty of support for unexpected situations such as sickness or disease. Blechl stresses that chickens rarely fall ill, but that it's helpful to get advice from friends, and also to find a veterinarian familiar with chicken care.
The classes have been enormously successful. The two classes that have already begun are filled to capacity, and waiting lists are being created for upcoming summer and fall classes. The students involved come from all walks of life and range from 20 to 70 years old.
Another class involving chicken care has been added to the curriculum as well. Backyard Chicken Coop Construction is a hands-on guide to building your own coop and is taught by Agnes Berenyi. The two-day workshop only takes a weekend. At $375 it is a bit more expensive than the Backyard Chickens course, but materials are provided, and students learn to build a chicken coop from start to finish. The coop houses four hens, and no prior tool experience is necessary.
The popularity of the classes has led to added courses in the summer and the fall. "If the need is there, we will continue adding classes," Blechl said. "Some students take it simply for the knowledge, others for the practical skills. It shows people that owning chickens is attainable; it gives them the confidence."
"It's just been so fun," Blechl said. "The students are having fun. We're all having fun. After having finished the field trip, everyone was just standing there. They didn't want to leave."
Blechl stressed that above all, the course is about sharing information, and about encouraging students to try something new. "If anyone's interested in owning chickens, they can do it – [chickens] don't need a lot of care and with the information from the class they can really do it."