New building for culinary arts program approved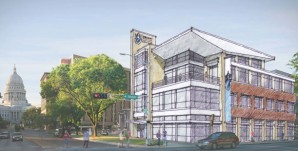 Photo Credit: Provided to the Clarion
Ryan Spoehr, Clarion Editor in Chief
April 25, 2012
Filed under News, Top Stories
Across the college, the aftermath of the largest education-related referendum is evident with construction taking place at many of the campuses. However, the college is looking to add more construction to the fold.
On April 11, the Madison College District Board unanimously approved a new, stand-alone building adjacent to the Downtown campus at the corner of Wisconsin Avenue and West Johnson Street. This three-story, stand-alone building will include a retail bakery, a dining room and kitchen. It will also have a hospitality center.
According to Roger Price, Vice President of Administration, there has been a great need for a new culinary department for several years.
"It was identified in the facilities master plan as a priority and that is the first place it originally was stated it could go downtown," Price said. "The discussion about going downtown outdates even going to referendum."
There are excess dollars remaining from the 2010 referendum that will be used toward this project. The school is now planning to use these excess moneys toward addressing growing concerns in the Culinary department currently.
"We are probably the only program in the entire college that can have a constant disruption in their labs," said Paul Short, culinary instructor. "Our instructors in the first year for example might be giving their morning lecture before students get started with things and people come wheeling through talking about whatever from the night before – right through your classroom."
The culinary arts program shares space with the cafeteria and food service. Not only is there a clash at times between the two, but culinary arts has been growing in numbers and is at their limit at Truax. There has been a tremendous growth just in the 19 years of Short's tenure at Madison College.
"When I first started here, we only had two first-year labs, we now have five first-year labs. We only had two second-year labs, now we have three," Short said. "We're capped in our growth right now because we have nowhere to go with them. We've taken every single student we can take into this program that wants to come here and there's more that want to come here."
There have been questions by members of the community toward the college from the community about the college's commitment to downtown, according to Roger Price, Madison College Vice President of Administration. However, he said that this project may eliminate some of those questions.
"There have been a lot of questions from the community from the civic and community leaders as to 'what is our true commitment to downtown?' I think this makes the statement, 'we're here. We're staying,'" Price said. "We understand that having an educational center for the college on that block is something that we're committed to. The future and full use of that property will need to happen over time, but this is the next major step."
Price says that commitment includes a commitment to excel at not just within downtown Madison or Madison in general.
"The bottom line is not about the facility. It's about what we can do to provide that center of excellence," Price said. "We need to come back to what we're trying to accomplish and that's to make this the center point for culinary training in the Midwest."
If the facility is built adjacent to the current Downtown campus building, it takes the college's culinary arts program to the center of a city that boasts the most restaurants per capita in the U.S. Essentially, if a "center point for culinary training in the Midwest," were to be on the corner of Johnson Street and Wisconsin Avenue, it would have culinary students just down the street from several opportunities to perform their trade.
"These are jobs that aren't going anywhere else," Price said. "They're going to stay in our district. We're going to train the workers for those needs."
The actual construction of the building is still up in the air. It will be proposed to the Wisconsin Technical College System board in May and will be up for vote in July. The project must go through the city as well.