Finnish student in carpentry program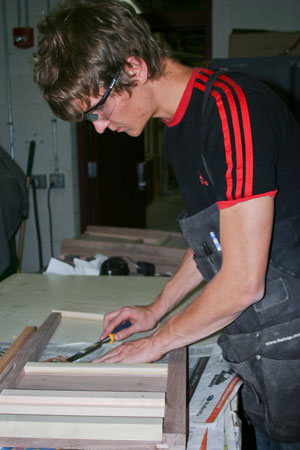 Photo Credit: Kait Vosswinkel
Kait Vosswinkel, News Editor
April 25, 2012
Filed under News
Madison College might not seem like a high-priority destination to an international student, but Miska Karvinen came all the way from Joensuu, Finland in order to study carpentry here.
"I heard about this from my teacher. He visited MATC one and a half years ago," Karvinen said. The young student arrived last August, two weeks before school started.
After having graduated from a three-year carpentry program in Finland, Karvinen wanted more experience with the English language and the American style of carpentry.
"That was also one reason to come here. I think English is a pretty big thing in Europe, like almost anywhere, and especially if you want to be a teacher," Karvinen said.
After three years of experience in Finland, the actual woodworking was easy for him, but the technical terms in English gave him some difficulty at first.
"The teachers have been really helpful," Karvinen said. He had a lot of one-on-one time with the professors, and said that the class size was great.
The program isn't only beneficial for language skills. Madison College's carpentry program has a rich history, and has been operating since 1912. The one-year program is designed to give students a broad base of information in a relatively short period of time.
"It kind of goes a long way in a short time, but the goal is to give [students] the fundamentals, and they can then apply those concepts for the rest of their lives," said Patrick Molzahn, one of the program directors.
Students learn everything from basic hand-working skills to modern, CNC (computer-driven) woodworking techniques. Studying techniques as varied as bending and veneering, students spend time learning the different techniques for American face-frame cabinets as well as the more utilitarian European style. They leave the program with a technical diploma in cabinet making and millwork.
The program uses a fully equipped shop on Madison College's Truax campus, although students also take part in offsite internships offered through local employers.
Molzahn has seen the program grow exponentially in recent years. While the program has a limit of 16 full-time students, around 50 more students participate in the night classes offered, and Molzahn hopes to continue to expand the program.
"Our long-term goal is to turn the program into 45 weeks," Molzahn said. "Three 15-week trimesters so we will go year round."
An addition to the shop is also in the process. Ground breaking on the new exterior construction is going on right now. With more interior remodeling next year, 5,000 square feet will be added to the current woodshop.
Karvinen is one testament to the program's success. He'll spend another six weeks in the United States, and was very happy with his experience at Madison College.
Karvinen is eagerly planning for the future. He hopes to specialize in custom-made cabinets, and may go into teaching. Although he loves the United States, Karvinen is happy to be going home.
"I don't mind going to work abroad for a while or something, but I think I'll stay in Finland," he said.
He's optimistic about the job market that he's going into.
"I've been fortunate," Karvinen said. "I've always had summer jobs and everything. Like if you go to internship somewhere, they might ask you, 'Do you want a summer job?' And you can just go back to the same place."
He's looking for a change this year, though.
"Now I want something different. There would be still the same place where I could go, but I might try apprentice teaching for a while, and then I'll know," he said.
Already lining up jobs, Karvinen is well on his way to becoming a successful carpenter.
"Well, I'm looking for a job at least for next fall. I have some of my own projects for this summer, but I still want to study and hopefully be a teacher one day."