Event in cafeteria a practice run for culinary competition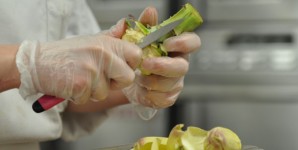 Photo Credit: Aaron Miller
Aaron Miller, Copy Editor
March 27, 2012
Filed under News, Top Stories
You've all seen it, the classy dining room full of well-dressed members of the gentry located near the entrance to the school.  But there is more that comes out of that kitchen than just great food, such as the Wisconsin state culinary champions!
In January, the Madison College Culinary Team won the state competition, and is now moving on to the regional competition, which is in Detroit this year. The competition involves cooking a four-course meal in an hour and a half, and a culinary skills relay race.
It is the culinary skills section that Madison College students will have a chance to witness on Monday April 2. The Madison College Culinary Team will be in the Truax cafeteria at 11 a.m. Each person will break down two chickens, one arctic char (a fish similar to salmon), cut up a variety of vegetables, make pastry cream and roll out tart dough.
The purpose of this display is not only to create some awareness for the team but also to hold a practice that is in an unfamiliar place. Practicing in a new environment is beneficial because it jars the team out of their comfort zone, and if they can do well in the cafeteria surrounded by hundreds of people, they can do well anywhere.
Viewers may feel free to watch and talk to the team members as they work.