My Doctor is My Dealer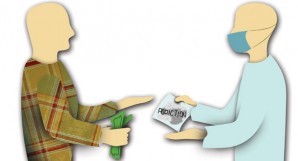 Photo Credit: Illustration by George Treviranus
Brooke McGee, Opinions Editor
February 22, 2012
Filed under News, Top Stories
For some, getting drugs is a far cry from the back alley exchange that we see depicted in the movies. Instead, it occurs in a well-lit room with smiling faces. Names are not withheld, and the whole transaction is happily documented. This is the situation many are in when their drug dealer is their own physician.
When you hear on the news of an individual being rushed into an emergency room from the throes of an overdose, it is potentially from prescription pills. Prescriptions are now the leading cause of overdoses, surpassing previous statistics of what are commonly called street drugs. Obituaries with photographs of young adults, bitterly snatched from their future are another thing we see too often. Prescription pills are now the biggest contributing factor to fatal overdoses. Thousands and thousands of Americans a year — housewives, straight-A college students and business men are victims to a rising epidemic of individuals who become hooked unknowingly after being given that fatal 4×3 piece of paper from their trusted physicians.
Previously, heroin and cocaine were the typical demons that would close their hands over the mouths of their victims. Nowadays, specifically within the last decade, the tables have turned. Opiate-based pills are now the drug of choice, and the supplier?  You're local neighborhood pharmacy, right out in the open.
A prescription for disaster is sometimes merely an office visit away. A well-voiced complaint over unresolved pain and discomfort typically brings, and often without encouragement, a wielded prescription pad of relief.  A vicious cycle begins.
"Tasha," age 27, is a Madison Area Technical College student and has been on painkillers since the age of 19. Tasha's GPA is 3.6 and she has a professional secular job in addition to her studies at school. Tasha is also a single mom.
Tasha was in a car accident that required multiple surgeries, injections and procedures.
"I'm not in nearly as much pain as I used to be, but I still take the pills. My doctor knows my pain is improved," Tasha said. "I was told the medication is preventative and a form of maintenance. I don't quite know exactly what that means. I have been told though that I'm in more pain than I realize because the medications are still in your system helping even when you think they wore off."
Stories like this are not unusual. Despite relief from pain, the prescriptions are continued, even after honest communication with the doctor. Who is to blame here? The individual perhaps, who trusts in their doctor and who, in their naivety, cannot yet understand the consequences for their seemingly simple original request?
"I don't take them anymore because of pain," Tasha added. "I take them because it's the only way I feel normal during the day. They don't get me high, there's no element of fun. It was never fun. It was intense trauma followed by some partial relief. Now instead of the trauma I have a monkey on my back. It's like having to take one every 4-6 hours simply in order to breathe."
Tasha asked if she could be taken off them, she said. However, it was not to be at that point.
"I was told my dose isn't high enough to worry about and that it's keeping me functional. I've stopped on my own a few times but it only lasts until a bad day of pain brings you back. It's always just a phone call away. One day of weakness is all it takes and you're back to square one. To make it even worse, or maybe I should say convenient, it's covered by my insurance. I can be hooked on meds and not have to pay a penny out of pocket. It's your typical street users dream, a continuous supply with no shame, no searching and no cost. It's almost impossible to get away from that kind of enablement. "
Is the doctor the one responsible for this spiraling black hole that Americans have found themselves in? These physicians are trained not only in medicine and application, but a moral ethical code of conduct is bestowed upon them too. However, how are they to know the difference between a patient who complains seriously of discomfort and one who exaggerates because they enjoy the mood-altering affects of the prescribed pills? Also to take into account is the moral dilemma of which is truly more ethical, allowing a patient to suffer in pain and protect them from dependency, or to increase comfort and mobility and quality of life while accepting the side effect of addiction?
Tonya East serves in the U.S. Navy as a physician. Her medical training has consisted of not only the standard education and residency, but also extensive and ongoing training in the Navy Medical Corps. According to West, the difficulty arises in the fact that no one person is the same, thus not one person tolerates the pain the same.
"One of the priorities that we strive for is that the quality of life of a patient does not deteriorate and that they are, hopefully, able to function at the same level as before an illness or injury," West said. "Nobody wants to inflict a patient with addiction to a medication, but we don't want to see anyone suffer either. We are educated on and exposed to certain medications more so than others, yes, just like over-commercialization of products. Ultimately it is the individual physician's choice on which treatment options they utilize more than others."
Another issue is the insurance industry and pharmaceutical companies that produce the medications. With sales representatives coming around to various medical establishments and pitching medications such as Adderall, Valium and Oxycontin, it's understandable how the initial prescriptions are handed out.
According to a whistle-blower lawsuit that is ongoing against Bristol-Myers Squibb Co., physicians have been and are being distributed perks or kickbacks for prescribing their meds. Other companies as well have been accused of this in the past, but not on this scale. Luxury suites, golf outings, dance lessons, gifts, trips and much more have been found as bribery in order to incite doctors to get out that little paper pad and scribble down the name of their medications.
A July 2008 New York Sun article revealed Excellus Blue Cross Blue Shield of Rochester, N.Y., and Independent Health, as two New York health insurance companies who have offered higher compensation to doctors who prescribe generics more so than brand name medications. Michigan lawmakers also recently scrutinized the Blue Cross Blue Shield of Michigan Blue Care Network who paid doctors $100 each for every patient which was switched off of a generic cholesterol drug and switched to a brand name medication. With this type of drug dealing going on in the background, how is a patient to trust that a prescribed medication is truly in their best interest?
"I have requested certain medications before," Tasha explained. "There have been times I was given a med that was stronger than I thought I needed. I don't understand why a physician would prescribe me Percocet when I request Tylenol 3. Tylenol 3 is a lot less addictive since there is a smaller amount of narcotic in the medication. It's times like that that I think something else, or someone else, has a hand in the matter. I don't like to think that someone is pulling strings behind the scene when it comes to my health care. It should only be between me and my doctor."
Who is ultimately responsible is subjective and open to opinion. It is undeniable that there is personal accountability that goes along with the decision to take or refrain from medications. As Tasha pointed out though, one moment of weakness on the patient's behalf can sometimes destroy month's worth of determination. Honest communication with your doctor is by far the best choice in any situation. Holding off on addictive medications that you feel you can do without may be a good choice for some.
Those who have found themselves in a situation where prescription pill addiction has surprised them can always request additional treatment in order to be safely weaned off of the medications. Treatment clinics and programs are available, as well as prescription drugs such as Suboxone which help block the brain's receptors from absorbing the medication. Prescription addiction is not something that need be a consuming part of your life.
Having the courage to speak up and seek assistance is the first step. There is no reason that a known side effect, dependence, should be hidden in shame. Your doctor is very well aware of the reality of this and aware of your prescription use, they, after all, are the ones who gave it to you. What they are not aware of though, is if you feel that you need a professional hand in weaning off of the meds. They helped you get on them, you can be sure they will help you get off them as well.