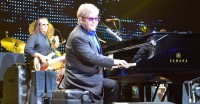 Evan Halpop, Clarion Photographer
March 27, 2012
One of the most energizing concerts to come to Madison sent waves of best-selling rock music across the Alliant Energy Center. There was that certain life at the Aliant Energy Center that you could only get out of a longtime accomplished artist such as Elton John.  Elton opened the show with a bang... Read more »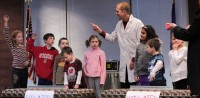 March 6, 2012
Fusion Science Theater's new SCI show, Race to the Glow, shows that theater in education works. Children cast ballots prior to and after the show in order to provide proof that they learned something. During the show, Chris Babiarz and others explained how to use the science models and disassembled... Read more »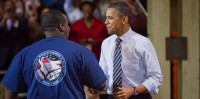 February 22, 2012
Clarion photographer Phil Ejercito chronicled President Barack Obama's visit to Master Lock headquarters in Milwaukee, Wis., on Wednesday, Feb. 15, 2012. Obama recognized Master Lock for relocating 100 overseas jobs back to the Wisconsin plant. He offered a economic proposal to encourage further... Read more »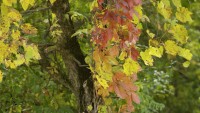 Heidi Adams, Managing Editor
October 12, 2011
Patrick O'Connor is a photography student at Madison College.  He plans on graduating in May of 2012. O'Connor is a Canon brand aficionado.  You can often see him in the hallway with his 40D around his neck. "Currently I like to travel as light as possible. Camera, a few lenses, some speed-lights... Read more »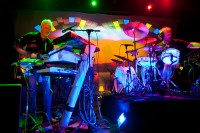 Peter Schaeve
October 3, 2011
If live music is about generating heat in the audience, grabbing a ticket to a live EOTO (pronounced ee-oh-toe) show is like getting a boarding pass to fly dangerously close to the sun. One buys a boarding pass and does his or her best to survive the onslaught of heat pulsating from the stage. These... Read more »
September 30, 2011
At this year's Campus Fun Day event, The Clarion asked students to show us their talent. We got a mixture of responses – from scared looks to enthusiastically hamming it up for the camera. So … we're sharing our video from the event with you. Please note, the views and opinions expressed... Read more »
September 28, 2011
The Madison College Public Safety Department added a bike patrol over the summer. Department head Jim Botanni explains the benefits of the new type of patrol.
June 30, 2011
Madison College graduate Steven Salmon, who has cerebral palsy, wonders what his future will be like if the state passes the governor's proposed budget. Salmon, a published author, worries that money for home health care assistance will be eliminated.
April 27, 2011
See what happened at the 2011 Madison College PowWow held at the Redsten Gymnasium. All photographs are by Dee Saunders, Clarion photo editor.
March 30, 2011