Museum brings historical exhibit to New Glarus with plenty to offer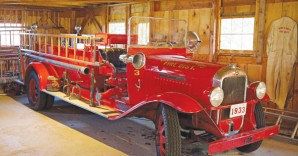 Photo Credit: Eyesonwisconsin.com
Lea Landwehr, Staff Writer
September 25, 2012
Filed under Arts & Culture, Top Stories
History buffs, museumgoers, and antique lovers rejoice. Just a 40-minute drive outside of Madison lies a small town by the name of New Glarus. And though it is often recalled for its famous brewing company, it's also home to a lesser-known gem called the Swiss Historical Village. This site preserves life as it was for the Swiss settlers to the area in 1845. The tour guide, John Marty, is more than just extremely knowledgeable. He is actually related to one of the original settling families. He speaks and sings their dialect to this day.
The Village itself is made up of 15 points of interest, almost all of which are separate buildings representing a business of some type, each laid out in the style that the settlers would have had. These include: a settler's cabin, Swiss bee house, pioneer cabin, cheese factory, schoolhouse, blacksmith shop, sausage kitchen, farm implement shed, fire house, collectibles store, print shop, and log church. It may sound like a lot of walking, but they're actually aligned in a circle formation. This is not historically accurate, but the decreased walking is no doubt appreciated by those with physical disabilities and those who want to pack the most history possible into their day.
In addition to the businesses, there's also a Swiss cemetery, which I'm inclined to consider a business as well, particularly since the Swiss recycled graves. How does one recycle a grave, you wonder? Every 25 years, they dig up the bodies and move whatever remains are left (just a few bones if anything) to a vault above ground. The Swiss version of beekeeping is unique as well. They built a house full of several cabinets where each houses a different society of bees. Each cabinet is color-coded ostensibly to help the bees find their home hives, although there's no reason to believe this actually works.
Touring the Village can be done either by self-guide or by joining a tour in progress. Most likely you will not arrive at the beginning, so you just go to whatever building that the guide and group are in at the moment and follow along until you wind up in that same building again. If this sounds confusing to you, worry not. Each building or stop makes sense as a stand-alone. Because there are so many buildings, you should plan to spend at least two hours in all.
As one might expect, the experience is mostly a walk-listen-look affair. But for those who enjoy a more interactive trip through time, October 7 will be the day to go. The Annual Harvest Festival is the one day of the year that history really comes alive. Instead of a regular tour guide, they will have weavers, quilters, blacksmiths, cheesemakers, wheelmakers, and Civil War reenactors onsite doing live demonstrations. If you need a further reason to go, the entrance fee is even reduced on this day to $5. So mark your calendars and put on your fun hats, folks, because you won't want to miss this.