Indie band 'Reptar' comes to Madison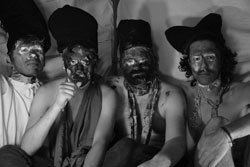 Photo Credit: Photo taken by Ross Brubeck
Alexia Gleyseen, Clarion Staff
March 27, 2012
Filed under Arts & Culture
Reptar is no longer just a green dinosaur cartoon from the 90's. The name Reptar now belongs to a funky foursome from Athens, Georgia. This indie-pop group will be taking the stage along with Quite Hooves and Canopies at the High Noon Saloon on April 4.
The music created through the combination of vocals, guitar, bass, samples and keyboard is energetic and fun. Reptar shares similar qualities with bands such as The Talking Heads, Vampire Weekend and Animal Collective. Their sound is fresh and different with a pop-synth beat and unique vocals.
The men behind Reptar includ
e Graham Ulicny, William Kennedy, Ryan Engelberger and Andrew McFarland. The four college students attend three different schools, yet still find the time to tour the country and set bodies in motion.
Reptar started performing shows in 2008 and have been putting on high-energy and interactive shows ever since. The band created a buzz after performing a free show in their friend's backyard during SXSW last spring. They currently have one album out entitled "Oblangle Fizz Y'all" which includes tracks such as "Rainbounce" and "Blast Off." Reptar's second album is set to release May 1, entitled "Body Faucet".
If indie-synth-pop-funk sounds like your style, make sure to mark April 4 on your calendar. The show is 18 and over and tickets are $8 in advance, $10 on the day of the show. Reptar will be ready to fill the room with plenty of rhythmic beats to move to.