Exclusive interview with the band Bobaflex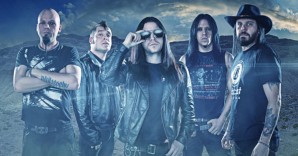 Photo Credit: Photo provided to The Clarion
Ryan Spoehr, Editor
February 22, 2012
Filed under Arts & Culture, Top Stories
Ryan Spoehr of The Clarion recently sat down with Shaun McCoy, lead singer of the hit band Bobaflex leading up to their show at the Regent Street Retreat on March 1. After their release of "Hell in My Heart" on BFX Records on Aug. 30, they have been touring ever since.
Ryan Spoehr: How is it playing in a band with your brother (Martin McCoy)?
Shaun McCoy: It's cool. It's cool because we're family members. We get along pretty good for brothers. It helps to gang up on other band members too you know.
RS: How did you and Martin meet up with Chris Grogan (guitar, vocals), Tommy Johnson (drums) and Jerod Mankin (bass, vocals) to form Bobaflex?
SM: We're all the same hometown. We all live together. My brother played with Jerod and Tommy in high school. We all lived within five miles of each other – hometown buddies.
RS: "Bury Me With My Guns" has been a successful song for you. Discuss the meaning behind that.
SM: It was inspired by a comic book called "The Preacher." It's not exactly the same story as the comic book, but basically it's about – it doesn't say why – but it's a guy that's disgruntled and upset with God. He believes that he can take his guns into heaven and shoot God or the devil. It goes both ways there. We got a little bit of flack for it for being sacrilegious.
RS: Chemical Valley is your latest single. Talk about that song a little bit.
SM: That's the new single. It's being played on JJO right now. We've been playing it live for two years. It just came out on "Hell in My Heart" on Aug. 30. That song is about our hometown.
We are from Chemical Valley. It's like between Ohio and West Virginia. It's about a boilermaker who gets addicted to oxycontin and ultimately loses his family and is on the run and in trouble with the law. He loses everything due to his addiction to oxycontin.
It happens to a lot of people in our area. Definitely, the hillbilly heroin thing is affecting our area badly. It used be you did not have to lock your doors at night and now you definitely have to.
It's Chemical Valley because of the chemical plants where we're from, but a lot of people do get cancer because of all the toxins in the area. It's also Chemical Valley for all the drugs that float around the valley. The song has a double meaning in that sense.
RS: Your music, it's a hard style of music. How would you describe your music?
SM: Just like you said. It's heavy rock with melodies and harmonies. I don't have a term for it like party-core or anything like that. We're just a rock band.
RS: You've been doing this music thing for a while, when did you realize when you wanted to be in the music industry and make this a career?
SM: Well, in high school, of course I had dreams of it and played in bands and I went to college. I only got about 40 credits for the advertising degree, but once I got into it, sitting around the room talking about the audience for a Hallmark commercial, it hit me like an epiphany. It's like "this sucks."
RS: The inspiration for the band's name has been linked to Boba Fett, the bounty hunter from the "Star Wars" series. Can you talk about that a little bit?
SM: I am a big Star Wars geek. When we started the band, at first it was just a weekend thing, so we just made kind of a goofy name up off the top of our heads for the weekend and it kind of stuck.
Once we started drawing people, the name meant money because it's how we just started making money for the band recording. If you change the name, you start all over. So, Bobaflex it is. It started out as a drunken Star Wars joke and we were going to use it for a while, but it's been the name ever since.
RS: You have played the Taste of Madison the last two years and you played WJJO Band Camp three years ago. You keep coming back. So what is it like playing in Madison?
SM: It's great man. It's a really glorious gig with the Capitol in the background. It's definitely a cool experience and the people are just – you know it's the Midwest and the Midwest still appreciates rock more than anywhere else in the country.
It's almost like it's still the '70′s and people like to go see a good, live, actual band and drink beer and have a good time. It's old school in a good way.
RS: After you finish the upcoming tour dates, do you plan on going back in the studio for another album?
SM: Yeah, we're working on rough drafts for the next record already. We just had one Aug. 30, so we'll be rocking this one for at least another year.